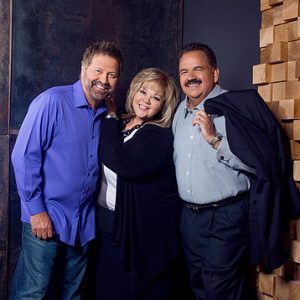 In the world of southern gospel music few names carry a more substantial legacy than Goodman.  Creativity, authenticity and a passion for sharing the good news of Jesus Christ have long been the cornerstones of the family's sound and messages. They remain the foundation for the next chapter in the group's illustrious history with the launch of Goodman Revival.
Tanya Goodman Sykes, her husband, acclaimed producer Michael Sykes, and friend Johnny Minick, a gospel music veteran who performed for years with the Goodmans, once again propel the family name into the spotlight with the release of their debut album and DVD Songs in the Key of Happy (Gaither Music Group). The trio revives such Goodman classics as "I Wouldn't Take Nothing for My Journey Now," "Until You've Known the Love of God" and "Who Am I," breathing fresh life into songs that have defined the genre for decades.
The decision to contribute a new chapter to the Goodman legacy evolved from a Sunday morning on stage at Minick's church. "Michael and I moved to Texas a few years ago; and when we moved back in 2012, we actually stayed with Johnny and his wife, Sherry, for three weeks while we were looking for a place. They were so generous to open up their beautiful home to us," Goodman Sykes recalls.  Minick pastors the River of Life Assembly of God Church in Smyrna, Tenn., and the three friends took the stage to sing one Sunday morning in a pivotal moment that would change their lives.